Welcome to Ryedale
We put your property on sites like Airbnb, so you don't have to. Get a quote now.
Welcome to Ryedale
Hassle-free Short-Let management that optimises your rental income.
Start your search here:
See how much your property could earn:
Local holiday letting expertise, national know-how
Meet Chris
Hi, I am Chris Grace proud to be the Managing Director of Pass the Keys Ryedale. For the past 10 years, I have been working in the local area within the property industry. I have a passion for property and the tourism industry having studied this extensively during college and then on to University. After living in Newcastle for a few years during university, I elected to return to Ryedale to start my career setting up a few businesses within the property industry. I have completed many development projects within the area and furthered my love for Ryedale. From the mountain bike trails of Dalby Forrest to the rugged moorland walks and local market towns I believe Ryedale has so much to offer and it's my pleasure to be able to serve the local hosts of Ryedale. I bring passion and enthusiasm to this industry. I work very hard for the clients I serve and bring my expert knowledge, friendly persona and love for Ryedale to every part of my work. I enjoy building strong relationships with my hosts and look forward to growing my network.
Track your performance with a personalised dashboard
We provide you with a dashboard that tracks rental revenues, bookings and reviews. We also give you the ability to set your availability easily online and give you a peace of mind.
Manage Availability
Avoid inconvenience by only booking days you're free
Monitor Revenues
Track how much you've made in a given month
Track Bookings
Track how many bookings you've gotten in a certain month
Read Reviews
Read the wonderful reviews your guest leaves for your building.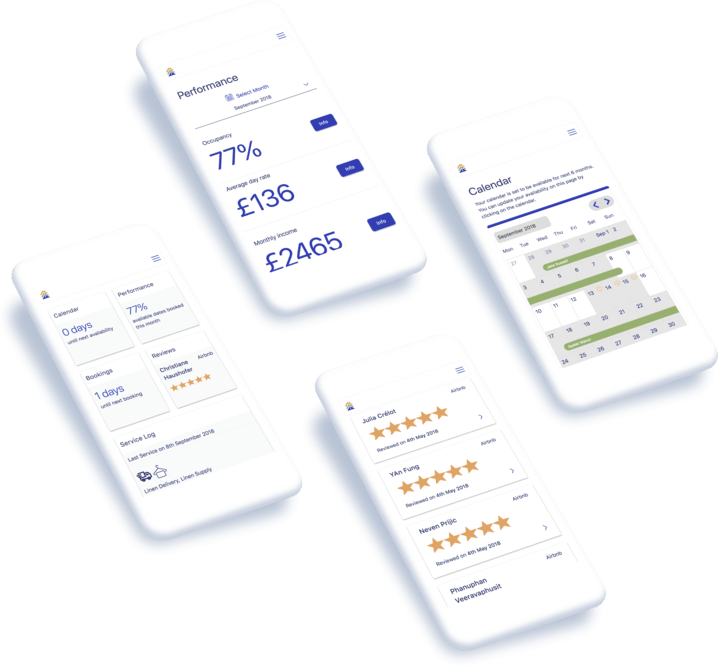 Holiday letting agents in Ryedale
The recent pandemic changed the way people think about holidays and short breaks. The restrictions on flying forced everyone to look at the UK in a different light and although at first, this might have felt like a temporary alternative, people really started to discover the richness and variety of sights and experiences to have in our beautiful country, they recognised that a staycation is by no means second best.
Ryedale is located in one of the most gorgeous counties in England. It's home to some of the most spectacular scenery in Britain and Ryedale is in the perfect setting in which to enjoy the hills of the Yorkshire Wolds, the dramatic North York Moors, the wonderful heritage coast and the stunning ancient city of York.
It's so easy to get here that I think people are going to start coming in ever-increasing numbers and while we may have some great hotels and B&Bs, there is going to be a growing demand for self-catering short-lets with all the comforts and conveniences of a home from home. Ryedale is at the heart of the other England - the one which everybody is going to know about and want to experience.
Any homeowner who wants to take a step into the short-let market is going to have a lot of questions and a few concerns. Their property may be an important asset but it's also a home and while the theory of letting sounds great, the practicalities can be daunting. Platforms such as Airbnb are brilliant for making connections with holiday-makers, business visitors or anyone else looking for somewhere comfortable. They are well-equipped and perfectly located but what happens once a letting is agreed?
Knowing your precious property is in the hands of a highly professional, efficient and dedicated management team offers genuine peace of mind. The more this part of the country opens up to tourists and other types of visitors, the more the short-let opportunities will grow. Arms' length landlords are crying out for someone they can trust to look after their interests and to ensure that their tenants have the best experience. That's what Pass the Keys stands for.
Ryedale has some exquisite market towns and rural locations, it's a fantastic place to own a holiday home. The return on investment is also substantial, particularly when compared to relatively low residential rents of circa £600 for a 2-bed property. The main areas of significant interest are Malton, Pickering, Helmsley, Thornton Le Dale and Kirkbymoorside where owners can expect a high yearly occupancy rate and an average daily rate of £120. Similarly, larger rural properties can also expect fantastic returns, particularly around the school holidays when families and friends rent a home between them to holiday together.

Ryedale itself has an abundance of attractions from Stately Homes, renowned country walks, and action-packed outdoor pursuits to local markets and food festivals. However, Ryedale is also incredibly well positioned to visit the coastal towns of Whitby, Scarborough and Filey as well as being within a short distance of larger towns such as York.
If you are a homeowner or investor, property in Ryedale offers huge potential for high returns on investment. The combination of high year-round occupancy rates combined with relatively low property costs makes it one of the best investment opportunities in real estate in the local area.
We are Ryedale's leading holiday letting agents
Read our latest holiday home hosting tips and guidance for homeowners in Ryedale.
Pass the Keys launches in Ryedale - Meet Our Newest Partner, Chris!
Pass the Keys Comes to Ryedale District! Here at Pass the Keys we're very excited to share the news of the latest developments in our ongoing programme of nationwide expansion. From our headquarters in London, we've been rolling out the Pass the Keys operation to franchisees in cities and towns all over the UK and we're now moving into the beautiful North Yorkshire district of Ryedale.
Read More
We've been featured in news sites such as




Get started today or speak to a host advisor
Book a call with our host advisors today and have all of your questions answered