Welcome to London
We put your property on sites like Airbnb, so you don't have to. Get a quote now.
Welcome to London
Hassle-free Airbnb management that optimises your rental income.
Start your search here:
See how much your property could earn:
Why let Pass the Keys manage your Airbnb?
Short Letting made easy!
Airbnb Professional Cohost
We are one of the very few official Airbnb cohosts in the UK, so you can trust us with your short let property.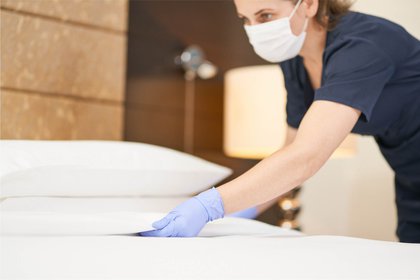 Complete management
We make Airbnb hosting hassle-free by managing guest communication, check-in, cleaning, laundry and more.
Find out more
Maximise your income
We use a proprietary dynamic pricing strategy to maximise your rental income by hitting the right balance of nightly rates and occupancy.
Magic host portal
We upload photos after every clean, so you always know the condition of your Airbnb property.
Guest screening
We thoroughly vet guests prior to accepting bookings to ensure the security of your Airbnb.
Read more
What Airbnb management services does Pass the Keys provide?
Property Management
Professional Airbnb cleaning & laundry

Photos after each clean

Property performance dashboard

Maintenance
---
Guest Management
Guest screening

Accidental damage insurance

24/7 guest support

Remote guest check-in
---
Listing Management
Professional property photography

Listing creation

Price optimisation

Multiple platforms
---
What's an Airbnb Professional Co-Host
Due to the size of our portfolio of properties and the consistent quality of our service, Pass the Keys® were invited to become an official Airbnb co-host in 2018. This exclusive status afforded Pass the Keys with a key account manager and direct integration to their systems so that we could dynamically update pricing, report on guest behaviours, and other key metrics. We have retained our benefits as a valued partner even though Airbnb have now retired the programme (2022).
Airbnb management by the short letting experts
Meet Katya
My name is Katya, and I am the London City Manager for Pass The Keys®. I am pleased to be part of the Pass The Keys® family, as together we are able to open new opportunities for Hosts across the city. We are a team of three, and together we have over fifteen years of hospitality experience, allowing us to share our high standard services on a daily basis with both our hosts and our providers. We are proud to manage a diverse portfolio of properties, working with unique properties from Walthamstow in East London all the way to Acton in West London. We manage every service from back to back cleaning sessions to providing maintenance suppliers when required. All of our hosts enjoy a 'hassle free' hosting experience due to our seven-day operational coverage.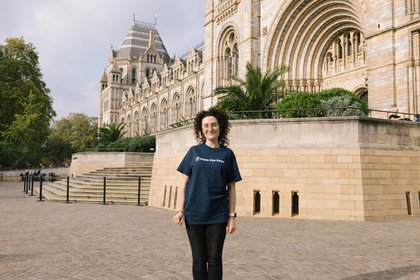 Meet Katy
Hi, I'm Katy- owner of Pass The Keys® Chelsea. I was born in Poland, spent a few years as a child in America and finally moved to London 6 years ago. The moment I first visited Chelsea, I was enchanted. It was love at first sight. The energy of this place is incredible. My previous experience running a cleaning business which specialised in short term rentals has shown me that this is what I really love doing. Working with people and providing the highest quality of service to both our hosts and guests is where I thrive. I am very excited to be delivering a great experience in such a magical place.
Meet Saad
Hi, I'm Saad and I'm the owner of Pass The Keys® Islington. I live in Canonbury, right by the station, and I'm an experienced Airbnb Superhost myself with over 7 years of hosting experience and a 4.96* rating. Although American and Pakistani by origin, I moved to London 12 years ago as a student at the London School of Economics, fell in love with the city and have lived here since. I was a management consultant with EY for 6 years advising multinational companies on how to become more profitable and serve their customers better before I moved to PTK because I am passionate about providing an excellent guest experience and because it makes sound business sense! I am an extensive world traveller, have lived in 14 countries and travelled to 77 others. I love North London for its feel of a village while being in one of the most diverse and vibrant cities in the world. As I am a local business owner and employ all my staff locally, I have passion and drive to succeed, and the knowledge, expertise and high-quality standards of the well-established Pass the Keys national brand support me. As a business owner and not just an employee, it is personally important for me to have you, my main customer, be happy and successful. The happier and more successful you are, the happier and more successful I am too - we are partners and we succeed together.
Meet Flo & Steve
Hi, We are Flo & Steve owners of Pass the Keys® Hammersmith & Fulham. We have lived in London for 15yrs and truly love its vitality, vigour and diversity. Right on the River Thames, H&F is home to great restaurants, theatres, museums, shopping and a waterfront! It also offers excellent transport links that ensure speedy access into the heart of the City and key London airports. There are also inviting open spaces including Ravenscourt Park, with the world-famous Hyde Park and Holland Park nearby. It is therefore no surprise that H&F is an excellent base for corporate and leisure travelers visiting London. We both have a background in real estate and hospitality consultancy. We are excited to be working with property owners in Hammersmith & Fulham to assist you in optimising your Return on Investment - leveraging our local knowledge and Pass the Keys® holistic suite of services and cutting-edge technology to deliver the best host and guest experience.
Meet Grant Neaves
Meet Grant Neaves, owner of Pass the Keys Whitechapel. In 2022 I moved full time into property management and have recently joined with Pass The Keys to manage properties in the Whitechapel (E1) and City (EC3) areas. Growth in these areas is incredible and I am keen to work with like minded hosts to continue to build on the opportunities for offering guests amazing places to stay and enjoy in the heart of London.
Meet Shahzoda
Meet Shahzoda, owner of Pass the Keys Greenwich & Bexley. Greenwich is one of the best places to visit in London. It offers something of interest to every visitor. Some of these include tourist hotspots, historic attractions, bustling markets, beautiful parks and gardens, and an abundance of fresh air.
Meet Ade
Hi, I'm Ade - owner of Pass The Keys® Southwark. I've made London home for a few years now. I'm super excited to be a part of Pass The Keys® family. I have local and international experience in hosting and short term letting. Strategically located on the south side of the London Bridge, lively, culturally diverse and dynamic, Southwark is home to many of London's most iconic attractions including The Shard, Tate Modern, Shakespeare's Globe, Borough Market, and the Imperial War Museum. Southwark has it all from stunning views, exciting tourist attractions and a wide variety of delicious food & drink options. These are great places to stay in London for families, friends, business trips or even solo holidays. The market demand for short lets in Southwark is huge. Find out how much you could earn as a short-let host on your Southwark property.
Meet Darren and Lydia
Hi, I am Darren. I have lived in Lewisham and the surrounding areas all of my life. My background has been in retail buying and merchandising for more than 20 years. I've also operated my consulting and online businesses successfully. Also, I've been involved in buying and selling property for the last 10 years. I am particularly excited to have my partner, Lydia, joining me on this venture. Lydia has vast experience in customer service and business administration. Together, we are thrilled to be able to offer a best-in-class management service for Lewisham, Peckham and Bermondsey landlords, in what are some of the most vibrant and cosmopolitan areas of London.
Meet Remi
My name is Remi and I am thrilled to be the proud owner of Pass the Keys®️ franchise for North Kensington. I've fallen in love with the city's fast-paced lifestyle, artistic vibe, and tourism hotspots. North Kensington is a highly demanded area, due to its vast tourism hotspots, including Notting Hill, Hyde Park, Royal Albert Hall, Kensington Palace, and the culturally diverse Portobello Road market. I aim to take a comprehensive approach when partnering with landlords to maximise their return on investment, whilst offering a hassle-free service. My hospitality experience helped me learn that cleanliness, comfort and exceptional customer service towards our guests, are crucial to thriving in the short-let industry. I am excited to work with you and help you unlock the full potential of your property. Let's team up and make your short-letting experience a success. Get in touch with me today to see how we can work together!
Access our magic host portal
.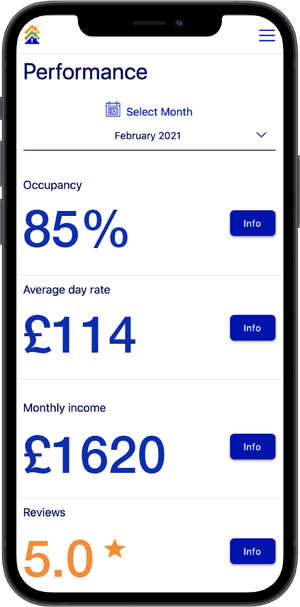 Rental income dashboard
Track the rental income for your short let for any given month and monitor occupancy rates and average daily rates.
Photos after each clean
View the service log to see photos uploaded by the cleaner after each changeover. Have peace of mind that your short let is in excellent condition.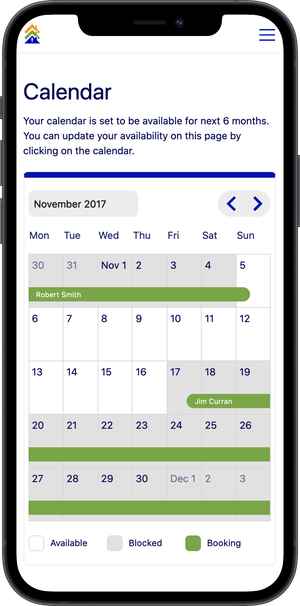 Upcoming guest bookings
View all upcoming guest bookings at a glance. Book unlimited personal stays in your short let property through our calendar by simply blocking the dates.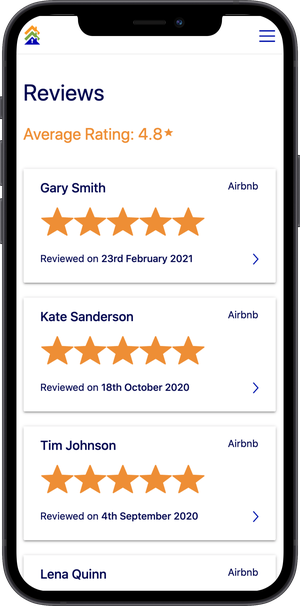 Guest reviews
Read the wonderful reviews your guests leave for your short let property. See each one as it comes in and your average rating.
Property Management Service in London
London is a Global City, one of the world's most dynamic and interesting places to visit, and therefore it comes as no surprise that it ranks as the third most popular city in the world on marketplaces such as Airbnb, Booking.com and other short-letting platforms. 21 million tourists visit the capital each year, many of which are looking for flats to rent in London and guests really are spoilt for choice when it comes to London Airbnb Hosting! The number of short term rentals in London increased to over 80,000 in 2020. But Airbnb's phenomenal growth isn't stopping there; the London rental market is set to continue to grow at a steady pace.
Airbnb London apartments provide a great alternative to traditional hotel-style lodgings. London is an immensely popular city to visit all year round so the demand for flats in London is very high, as is the demand for Airbnb management in the city. Zone 1 and 2 are prime for achieving a high return on London apartments for rent.
Our Airbnb management company will help you optimise your pricing strategy to ensure you get the best income possible from your London property. We'll also ensure you get the highest occupancy rate possible by advertising your London short let on the largest short letting platforms out there e.g. Airbnb, Booking.com & VRBO. Our London based property management service also employs Airbnb cleaners, manages bookings and handles all guest enquiries via our 24/7 support service. For an Airbnb agency with a twist, give us a call today!
We are London's leading short-term letting agents
Pass the Keys launches in North Kensington - meet our partner, Remi!
Pass the Keys, the renowned name in the UK's short-term letting industry, has now expanded its services to North Kensington area. We are excited to offer our unique short let management and hassle-free services to property owners in the area who are looking to maximise their property rental yields in a rapidly growing market.
Read More
We've been featured in news sites such as




Get started today or speak to a host advisor
Book a call with our host advisors today and have all of your questions answered